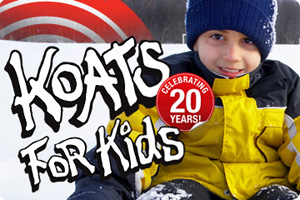 We know how cold the weather can be in Winnipeg, and a winter coat is the difference from having a horrible winter, to a joyous one. That's why Candie and Dolls is joining Koats for Kids!
Koats for Kids is a charity created by United Way, where you donate old winter clothing to help out children who may not have any. These donations mean they can go outside and enjoy the winter, instead of having to miss school or miss playing with friends outside. You can read more about United Way on their website:
United Way - Koats for Kids
So, come in to Candie and Dolls and drop off any unwanted youth winter wear! This means children's coats, hats, mittens, scarves and any other winter-wear items you can think of. We'll personally be bringing them to the Winnipeg Fire Paramedic Service. Also, when you come in and donate, you have a chance to win an amazing Candie and Dolls Candy basket! Perfect for you, or any amazing children in your life!
We hope you can take part of this amazing charity!